Playing Card Boxes
Leather Boxes
Plastic Boxes
Tuck Boxes
Every pack of playing cards needs a box or case to hold them otherwise their longevity is compromised.
If a deck is just cello wrapped once opened where can the playing cards go for storage? Playing card boxes are an essential part of any deck of cards.
We make boxes for all sizes of Playing Cards. Bridge and Poker are the most popular. This is just a very small part of what we can do. Tuck boxes are the most common used for playing cards we also make Rigid Display Boxes, Leather boxes and have a supply of plastic boxes.
I know this all sounds great but what's the catch?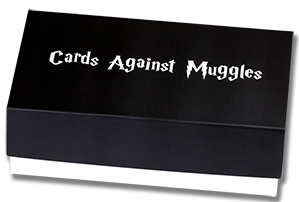 You don't really want to 10,000 boxes. This is the great part of what we do, our minimum order is 1 box! Yes 1 box fully customised with your artwork printed on the outside of the box. To be fair we can even print on the inside of the playing cards box if required too.
Amazingly you don't have to put playing cards in to these boxes. We have made boxes for very different uses like condoms for the NHS to promote safe sex in the gay community.
If you have a different requirement for boxes then please get in touch we can make a one off box any size without any tooling. So there is no massive set up cost.
Boxes normally hold 20 playing cards as a minimum but if there is less we can make a wallet to hold the cards. Flow wrapping and cello banding are also options but once open they are left without any storage.
Plain white playing card boxes are also available on request. These can protect your packs in transit without the cost of printing.
We make boxes for all of our standard sizes with any amount of cards. Once a pack gets to big for a tuck box we can put the playing cards in to a rigid display box. These are much stronger with a 2mm strawboard wrapped with paper printed with your design. We have made these boxes to hold 1250 cards per pack.
Personalised Tuck Boxes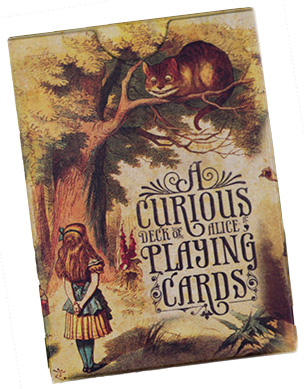 Printing & Materials for tuck boxes
All our playing card boxes are printed in cmyk on to 395gsm Zanta Box Board as standard. Other options are available on request. Ridge Display boxes are made with a 2mm white lined Straw board. Wrapped with a 135gsm white paper. Small orders are printed on to a fasson adhesive label and matt laminated. Then wrapped. Leather boxes can be Gold or Silver foiled.
Gloss Lamination
Gloss lamination is a popular form of finishing that gives your personalised playing card boxes a shiny covering on the outside. Slick, smooth and durable, the gloss lamination finish prevents people from writing on the box with a ballpoint pen and once applied to the exterior of your box, it really makes it look the part! Are you looking for a playing card box with a professional, vibrant and all round aesthetically pleasing finish? Gloss Lamination Covering is definitely for you!
Matt Lamination
There's nothing quite like the feel of a smooth surface or item as it sits in your hand. Rough edges and surfaces can make a product feel unwelcoming but with Matt Lamination Covering you will receive a box that has been finished with a soft 'satin' feel, which enhances the smoothness of the playing card boxes and makes it great to hold. You won't be able to write on the Matt Lamination Covering with a ballpoint pen, which is good news, and when you are actually touching and playing with your cards, you will instantly notice the silky quality to the print!
New Soft Touch Lamination
This has an amazing velvet feel that makes you hold on to the box for that little bit longer.
How they get that feeling on to a sheet of plastic I don't know. This is definitely my new favourite as it offers the same protection as the others.
Gloss Linen Textured Lamination
I know, what next? With the same glossiness as gloss lamination. But with a fine texture linen finish to give your box a very different wow finish. Same quality as all the above laminations in fact all our laminations are made by the same company so there is no compromise just 4 different finishes.
Plastic Playing Card Boxes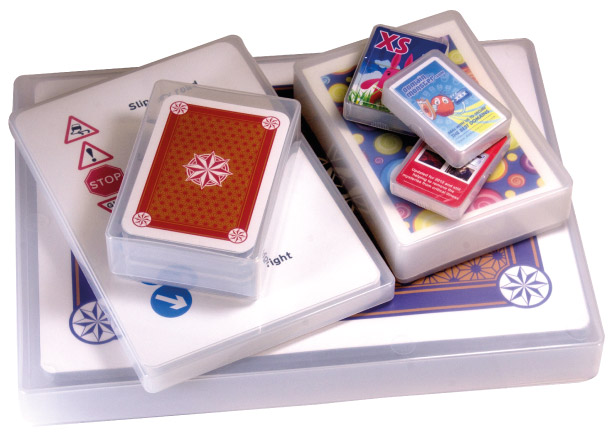 These are only available in standard sizes as below we have a large stock of them. These are only sold with cards in them.
| Size | Dimensions | Capacity |
| --- | --- | --- |
| Bridge Size | 56 x 87mm | Holds up to 56 cards |
| Poker Size | 63 x 88mm | Holds up to 56 cards |
| Skat Size | 59 x 91mm | Holds up to 36 cards |
| Trump Size | 62 x 100mm | Holds up to 36 cards |
| A6 | 105 x 148mm | Holds up to 200 cards |
| A5 Slim | 148 x 210mm | Holds up to 78 cards |
| A5 Fat | 148 x 210mm | Holds up to 200 cards |
| A4 Slim | 210 x 297mm | Holds up to 78 cards |
| A4 Fat | 210 x 297mm | Holds up to 200 cards |
| SRA3 | 320 x 450mm | Holds up to 100 cards |
The amount of cards per plastic box varies depending what material is used for printing the playing cards. For more information feel free to get in touch.
Artwork
Create your own personalised playing card boxes. All you need to do is download the appropriate template and add your design. Save as a pdf and your ready to go. If you can't create your own artwork then we can help you. Simply supply us with your logos, picture's, text and a brief description of how you would like the design. We will set up your design as requested and send you a proof before any printing takes place.
Custom sizes playing card boxes are available on request. No tool charge.
Templates
You can find all our templates in most formats on our template page. If you cannot find the template required. Just send us an email and we will gladly set one up for you free of charge.
Turnaround
Our normal service dispatches in 6 working days although smaller orders and test packs are despatched quicker. There is also a Emergency Service dispatch in 3 working days and an Economy Service dispatches in 12 working days.
Please Note: Rigid Display Boxes & Leather Boxes can take longer.