Personalised Playing Cards
Playing Card Coating
Two Sides
One Side
Description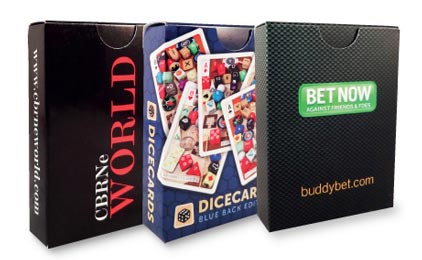 Personalised Playing Cards
Personalised Playing cards are a great way to enjoy your favourite photo's and images at the same time as your beloved card games.
Are you developing a new card game or concept?
Ivory Graphics look to help you do things in a cost effective manner. Because of this, we can produce playing cards in single packs so you can test your ideas first. That way you don't have to commit to bulk amounts of playing cards before you know how well they work! As a company we always seek fast turnaround times too and if you choose a premium service, we can have your playing cards with you the next working day based on your normal 5 working days.
Ivory personalised playing cards are available in 2 formats (personalised either 1 or 2 sides), they consist of 52 playing cards and 2 jokers. Personalised playing cards are all cut to standard poker playing card size (88 x 63mm or 2.5" x 3.5"). Other sizes are available: Bridge 56 x 87mm. 58 x 88mm. 55 x 85mm or (108 x 78mm See Education Cards). For a quotation on these sizes please contact our quotes team. As standard our personalised playing cards are packed in a handy plain white tuck box. Or the tuck box can also be printed to your own personalised requirements. We also have clear plastic boxes available.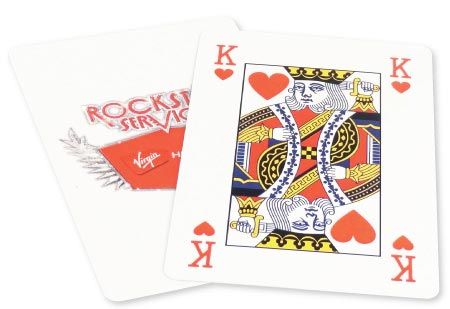 Personalised One Side
One sided personalised playing cards incorporate the standard English playing card faces on the front. On the backs you can do whatever you like and customise them in any way you want.
Are you looking to promote a special event? Perhaps you would like personalised cards as a gift, to promote a band event or for branding purposes? Ivory Graphics can help you there!
To see a digital proof of your personalised playing card send your logo or idea to artwork@ivory.co.uk Provide us with a description and we will design you a no obligation free digital proof.
Personalised Two Sides
You can now create your own faces, or have various products on every card or a different member of staff. Customising and personalising your playing cards on both sides gives you the freedom to create anything you want. Fantastic to use at memorable events for teams or squad members.
You can use them for organized events, which will boost retail sales for companies. You don't have to be limited to the playing card format you can create your own game.
Personalised playing cards can be used for recipes, parties, education, instructions, Trump cards, drug awareness, or clubs. You can present 54 reasons for becoming a member. Request a sample pack and see the quality service that we provide.
*** All cards are printed full colour as standard. ***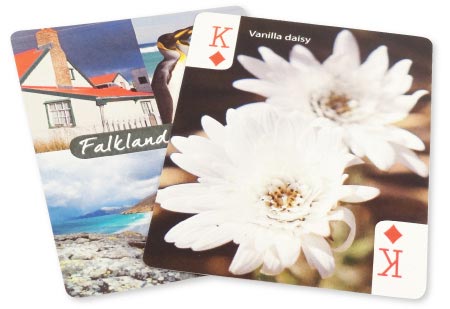 Plastic Coating
The best thing about plastic coated playing cards is how durable they are. With durability comes a better playing experience. Being able to handle your cards in an easy fashion without sticking or friction is valuable to those who take card games and magic seriously.
At Ivory Graphics we take both of these things seriously and know that plastic coated playing cards give you the durability you not only need, but expect when doing the things you do. The smooth surface you get from plastic coated playing cards allows for easy sliding, quick motion and swift movements! This is exactly what you need when you are playing cards.
As playing card specialists we are wise to the fact that some companies will advertise business cards on just plastic coated playing cards and assume their customers won't know differently - which in some cases they won't! At Ivory Graphics we are here to tell you otherwise and advise you to ask for samples when purchasing durable plastic coated card. Samples will let you see for yourself how slippery the surface of the card is and how easy they are to slide across almost any flat surface.
There's a simple trick to use when purchasing plastic coated playing cards that will ensure you know yourself that you are getting the real deal in terms of a playing card with performance properties. All you have to do is put your fist on top of the deck and press down then turn your arm in a clockwise motion and watch as the cards fan out in an almost-perfect circle. If they stay in brick form and simply spiral in a block then you have unfortunately purchased business like cards with NO DURABILITY.
As a customer looking to do magic, play games with ease or purchase cards for a promotional event, plastic coated playing cards are essential if you hope to perform and play in the correct way. Contact Ivory Graphics for more information regarding Personalised Plastic Coated Playing Cards.
WE CAN NOW PERSONALISE YOUR PLAYING CARD TUCK BOXES FROM ONE PACK UPWARDS. THE ULTIMATE COMBINATION OF PERSONALISED PLAYING CARDS AND PERSONALISED PLAYING CARD TUCK BOXES.