About Ivory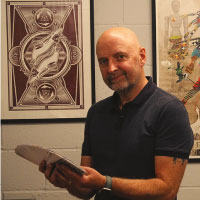 Ivory Graphics was established in 1994 by our Managing Director Steve Shedden originally as a lithographic printer predominantly focused on business stationary. With over three decades of industry experience, and with natural progression, he embarked on building Ivory with nothing more than a second-hand press that 50 years old. Steve now invests his time and knowledge into mentoring everyone in our team, which gives us the edge in the competitive printing market.
Originally, Ivory found its home in Waltham Abbey, Essex, later migrating to Huntingdon, Cambridgeshire. However, after six flourishing years, our growth exceeded the confines of our Huntingdon base, prompting us to relocate to a larger industrial area in March, Cambridgeshire.
The dedication and loyalty of our client base, many of whom have followed us all the way from Essex and Huntingdon, is awe-inspiring. Their enduring custom is a testament to our unwavering commitment to excellence and service, and we cannot express our gratitude enough.
Although our move from Essex was a significant transition, it presented Ivory with an opportunity to redefine and shape our current business model. Now, our reach extends beyond local and national boundaries, serving clients worldwide, with recent projects completed for clients in Austria, Luxembourg, America, the Falkland Islands, South Africa, and Latvia, among others.
At Ivory, our work reflects our passion and dedication. We thrive on the quality we deliver and derive immense pleasure from our craft. Our bustling, energetic work environment keeps us motivated and ready to tackle new challenges. From designing and printing to distributing a wide array of promotional material – from bespoke playing cards, card games, coaching cards and to tarot decks – we have it all under our umbrella. Our constant endeavour is to innovate and create products that are treasured by our customers.