About Us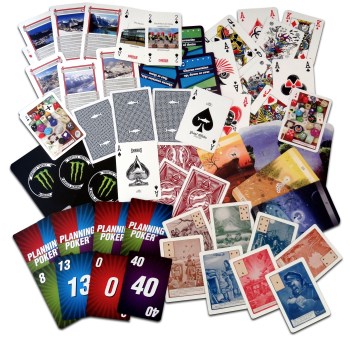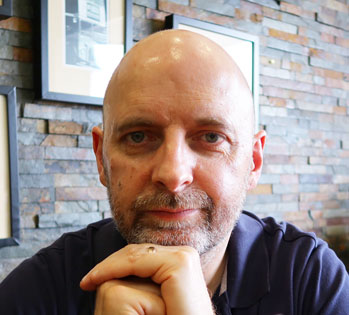 Steve Shedden
Ivory Graphics was established by managing director Steve Shedden in 1994 as lithographic printers mainly for business stationery. Steve has over 30 years experience in the print industry and with natural progression he started Ivory with just a second hand 50 year old press. Times have moved on and we are now lithographic and digital printers, Steve now spends a lot of his time training and passing on his extensive knowledge to his employees giving Ivory the edge in the print market.
Ivory was originally based in Waltham abbey, Essex and later moved to Huntingdon, Cambridgeshire. Six years on Ivory had outgrown the space available in Huntingdon and decided to move to a new industrial area in March, Cambridgeshire.
We are still overwhelmed with the amounts of clients who still come all the way up from Essex and Huntingdon to see us, which reminds us that we must be doing something right and we would like to say a big thank you to all who continue to support us.
Although leaving Essex was a big move back then it really has paid off for us. It gave Ivory the opportunity to restyle into our current business model. We currently design and print for clients all over the world most recently Austria, Luxemburg, America, Falkland Islands, South Africa and Latvia the list goes on and on.
We pride ourselves on our quality of work because we enjoy what we do and we do it with passion. We have enjoyment in our working environment. We can design, print and now distribute most promotional material from simple letters to custom playing cards. We are constantly developing new innovative products which our customers truly do value.
Read our Terms and Conditions
About FSC®
FSC®, short for Forest Stewardship Council® is an international, non-governmental organisation dedicated to promoting responsible management of the world's forests.
At Ivory, being with the FSC allows us to purchase wood products (paper), timber and forest products which have been taken from well-managed forest's.
Please visit their website for more information about this - http://www.fsc-uk.org/
FSC® certified products are available on request.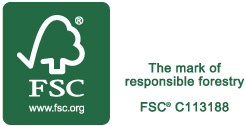 CE Certification
All of our playing cards are CE certified by an official body. This means that they meet CE compliance. Obtaining CE compliance is a complex process involving rigorous testing.
What does this mean to you?
The CE marking on our cards is a declaration that Ivory Graphics Ltd's Playing Cards all comply with the essential requirements of the relevant European safety legislations for toys.
This CE marking allows free movement of our playing cards within the European market. Without the CE marking you are not allowed to distribute cards within the European market; but because of our CE certification you are legally allowed to do so.

About ISO Certification
Ivory is ISO 9001 and ISO 14001 Certified.
ISO 9001 Advanced Quality Control.
Shown to consistently and reliably produce quality products. Proactively respond and appropriately deal with customer feedback. Quick to indentify and resolve issues.
ISO 14001 Environmental Awareness.
Demonstrated forward thinking and shared environmental ethos across all boards. Proven to be an environmentally aware organisation that fulfills its corporate social responsibility.
How does this benefit you?
They assure you we maintain and uphold a high standard of quality at all times. Our Quality Management Systems all meet the ISO standard. As a manufcaturer our environmental management systems are to a high ISO approved standard. Confidence knowing that you are working with forward thinking people that care about the environment and its future.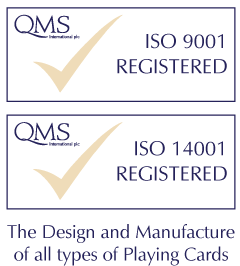 About BPIF
The BPIF is the principal business support organisation representing the UK print, printed packaging and graphic communication industry. It is one of the country's leading trade associations.
The federation strive to ensure their members' requirements come first. Through listening to their needs they have developed an unrivalled range of products and services that go well beyond those provided by a traditional trade association.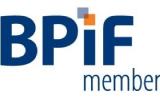 E.P.C.S & I.P.C.S


The E.P.C.S (also known as The English Plaing Card Society) was founded in 1984 which brings many people and groups together who are interested in playing cards and playing card games.
The I.P.C.S (also know as The International Playing-Card Society) was founded in 1972 which brings people and groups from any different countries together who have a common interest in playing cards and card games.