A3 Playing Cards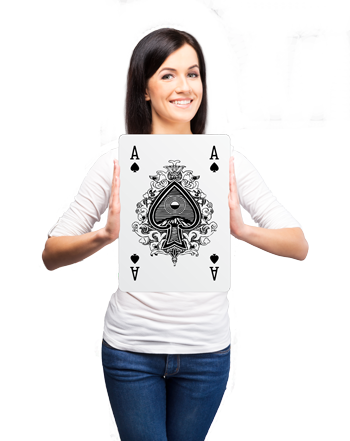 SRA3 Cards Description
Giant SRA3 Playing Cards are larger than two A4 cards side by side. This is the largest size for presenting to a group and is the a similar size to the cards use for "Play Your Cards Right TV game.
Presenting to a very large audience
Team Building activities at work
Group games, such as 'Play Your Cards Right'
If you fall into any of these categories then SRA3 playing cards are right for you.
SRA3 Playing Cards 320 x 450mm with Radius corners
SRA3 playing cards to to large to be produced on a single card. So we laminate two cards together using a lining sheet. This makes them super thick so they will stand up on their own.
We Can Also Do A3 Playing Cards 297 x 420mm
Custom SRA3 Playing Cards
A standard pack of cards has 56 cards in a pack because thats how many Bridge or Poker cards fit on a standard sheet. With all larger sizes this is not the case. So if you only need 30 cards in a pack or you may need 200 cards in a pack. Just request what you need and we will quote you with the most economical option.
To receive a quote please go to 'Request a Quote' page, you will see a few easy steps that need following before you can get your hands on your very own deck of custom SRA3 Playing Cards.
Select the material required we recommend Zanta Games board for SRA3 cards. Whilst non opaque it is stiffer than any other material. These decks are packed in Plastic cases as standard.
If you have any questions regarding our Giant SRA3 Playing Cards or the customisation process, please don't hesitate to get in touch so we can help you.