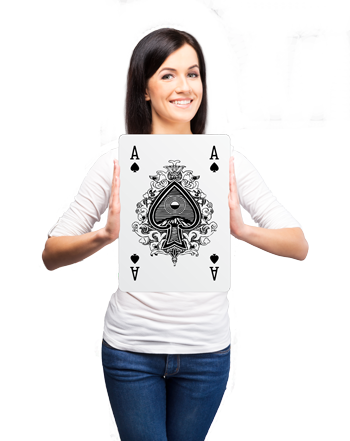 A3 Playing Cards
These giant A3 playing cards are the perfect deck to use with 'Play Your Cards Right' or for those with poor eyesight. Measuring at 297 x 420mm, they are also great for presenting information on as well. A3 Playing cards are perfect for:
Presenting information to an audience.
Team building activities.
Group games, such as 'Play Your Cards Right'
Training games.
Coaching cards.
A standard pack of playing cards has either 54 or 56 cards per pack and it's the same for A3 playing cards! Our services are designed to help you bring your idea to life, so if you're looking for something more bespoke like 30 or even 200 cards per deck; contact us today!
What are jumbo playing cards?
Jumbo playing cards are larger compared to the standard Bridge or Poker and have large numbers on the faces so that they are more readable and easier to see quicker. We have a selection of jumbo playing cards sizes for you to choose from, with our largest being A3 (297 x 420mm).