Custom Card Game Printing
Creating your own card game in just 6 steps!
Step 1 -

Choose your card size from our fantastic range.

Step 2 -

How many cards per pack?

Step 3 -

Choose your material.

Step 4 -

Choose your packaging.

Step 5 -

Need Artwork help? Choose a Tier Level.

Step 6 -

Order your FREE test pack!
Our Sales & Studio team work closely with our Production team so that we can recommend the best products for your pack. Contact us at info@ivory.co.uk or call us on 01354 656 430.
Standard Playing Card Sizes:

Bridge (56mm x 87mm) - Standard playing card sizes in the UK & Europe.
Poker (63mm x 88mm) - Standard playing card sizes in the USA.

Sizes perfect for Flashcards / Information style cards:

A7 (74mm x 105mm)
Education (78mm x 108mm)
Display (110mm x 155mm)

Our Tarot Sizes:

Tarot (70mm x 120mm)
Wide Tarot (85mm x 120mm)
Large Tarot (89mm x 127mm)
Tall Tarot (89mm x 146mm)

Other Game Card Sizes:

Square 50 (50mm x 50mm)
Patience (42mm x 63mm)
Baby Bridge (50mm x 75mm)
Square 76 (76mm x 76mm)
Skat (59mm x 91mm)
Trumps (62mm x 100mm)
Square 100 (100mm x 100mm)
A5 (148mm x 210mm)
A4 (210mm x 297mm)
SRA3 (320mm x 450mm)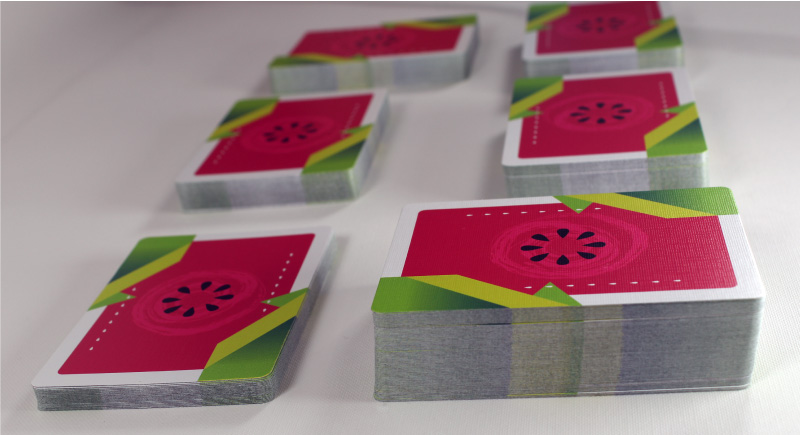 Standard For Playing Cards:

54 - 56 cards per pack

Standard For Trumps:

36 - 40 cards per pack

Standard For Tarot & Oracle Packs:

22 - 56 - 78 cards per pack
Looking for a different amount? No problem! Fill out our 'Other' option for cards per pack when requesting a quote.
Our playing card material is made up of 2 pieces of board that is laminated together using an opaque glue. This ensures that the board is more durable & has no possibility of show through. This material is great for Poker & Bridge style card games.
A step up from our 310gsm Heretic. Sureslip is a textured version that is perfect for magicians or magic tricks. It is also an amazing upgrade to make your pack stand out and appeal more to customers who love texture.
A more economical alternative to 350gsm Zanta Games, this is a thick card stock that is great for larger sized cards! If you're looking for a full-bleed design (no borders), then we highly recommend this one.
A thicker card stock that is great for larger sized cards and Tarot & Oracle cards! This is a stiff card stock that is most commonly used for bordered card designs.
Our newest card material! Perfect for larger cards where you're looking for a more premium quality. A great material for full bleed designs since it has a reduced chance of chipping.
Our Aramac materia l is made from 100% plastic and is great for writing on with a whiteboard pen. A very durable and flexible material, great if yourpack is going to be handled on a very regular basis. Please note that this material is not opaque and that it comes with restrictions at the artwork stage of a plain white border around your artwork. This ensures that the plastic sticks well and doesn't chip.
Not sure what material to choose? No problem! Contact Us at info@ivory.co.uk for a sample kit.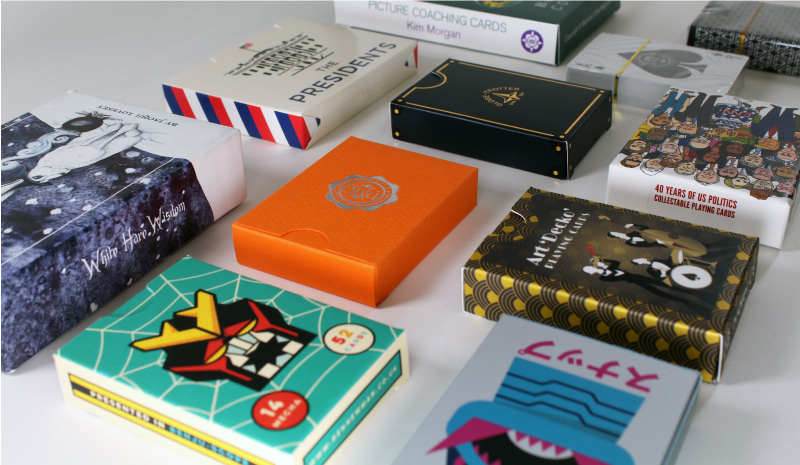 Tuck Boxes

These come with the option of 3 different laminates (Gloss & Matte & Soft Touch). They are completely personalised so that you can show off your cards and design them accordingly.

Double Tuck Boxes

A great option if you're looking to reduce postage costs! These are the same as our Personalsied Tuck Boxes, but they allow room for 2 packs side-by-side.

Rigid Boxes

These come with the option of 2 different materials (Smooth & Textured), as standard they are all Matte laminated as a protective coat. They are completely personalised so that you can show off your cards and design them accordingly. MOQ is 50 packs.

Plain White Tuck Boxes

Our economical option to personalised tuck boxes. They are unpersonalised and uncoated as standard.

Clear Plastic Boxes

Only available in Poker, Bridge, Skat & Trump card size. The card requirements are:
Poker - 56 cards
Bridge - 36 or 56 cards
Skat - 36 cards
Trumps - 36 cards

Paper Banding

A 30mm recycled paper mix that is wrapped around the center of the cards to hold them. There is no extra charge for this option.

Cello Wrapping

A clear film that wrapped around the whole deck, comes with a gold tear strip as standard. Available in Poker & Bridge size as standard, other sizes available with a bespoke set-up cost. MOQ is 50 packs on Bespoke set-up.
If you need some help with setting up your artwork then our in-house design studio is here for you. We offer 5 different Tier levels of artwork help so that you can bring your pack to life.
Tier 1 is our standard artwork level where you supply the artwork yourself which is also fitted to our templates. This requires no help or alterations from our Studio, apart from general checks during digital proofing.
Tier 2 includes help making your artwork Print-Ready for our Production Team. This is a great help is you're looking to add extras like Metallic ink or foiling but you're unsure how to set this up on your files. Our in-house designers will contact you about what assistance you need and they'll consult you every step of the way. To ensure you're happy with all the artwork before printing, we'll also send over digital proofs of every component.
Tier 3 is known as our full artwork setup. We request any content (text or images etc) that you'd like on your cards to be sent over to us and some examples of how you'd like them to be presented. Before we make up all of your components, we'll send over an example of each item so that you can see how your artwork will look. Once approved, we will make up every single component in your order accordingly and then send over digital proofs as final confirmation that you're happy to proceed to print.
Tier 4 includes a 1-on-1 session with one of our graphic designers to dicuss your pack. We can create bespoke graphics and illustrations according to your ideas and we'll also set up your artwork so that it is Print-Ready. All content (text) will still need to be supplied by you, but we will set this up on the artwork accordingly.
Tier 5 is a step up from our Tier 4 service, but we also offer the addition of Game Concept Testing. We'll discuss your game concept with you and then test it ourselves to make sure that your pack works exactly how you expect it to. A great and simple way for you to get your pack market ready.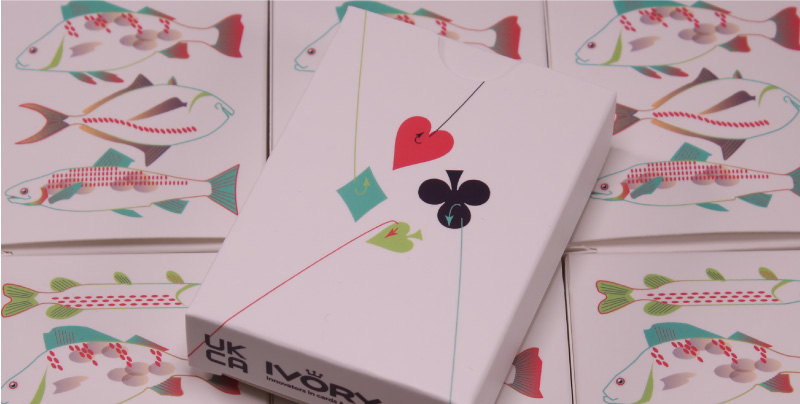 Here are Ivory, we offer a FREE test pack service. This means you can get your important prototype made before commiting to a full run. Whether you're in need of approval from high ups, running a crowdfunding or kickstarter, or want to try it out on some friends first. Our Test pack service is here to make it easier.
Order your FREE test pack now and see your project come to life! Simply request a quote on our website or drop us an email at info@ivory.co.uk and we'll send over a bespoke quote and a link to order.
Before your order goes to print, we send over digital proofs to ensure that you're happy with the quality and our in-house design studio will even send you some notes if they think something needs to be edited for that perfect print.
Once your digital proofs are approved your order goes straight to our Production Team. Dispatch times can vary depending on your orders specification, so be sure to check your bespoke quotation as it will be listed on there under Delivery. We'll also send through an Order Confirmation to confirm every aspect of the order, delivery address and our delivery date.
When you've received your test pack and have decided you're happy to go ahead, give us a shout! We're happy to help with some alterations if needed after you've done some testing. Just let us know what quantity you were interested in ordering and we'll set up a new order where the process begins again.
Your test pack charge will be refunded on your new quotation or we can send over an invoice and payment.