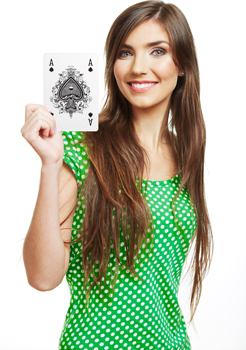 Large A5

Playing Cards
A5 Cards Description
If you are looking for Large Playing Cards then you have certainly come to the right place. Ivory Graphics give you the option to purchase A5 playing cards which can be used in a wide range of situations. Below we have provided you with a short list of reasons why people might want to use A5 playing cards as opposed to conventional decks:
Working in class with a group
Team Building activities at work
Group games, such as 'Play Your Cards Right'
If you fall into any of these categories then A5 playing cards are right for you.
A5 Playing Cards 148 x 210mm with Radius corners
A5 playing cards are no different to the normal sized decks used to play poker or bridge, and other popular games. The only difference is that they are much LARGER! The corners are rounded to allow for ease of handling, and the texture of the cards are exactly the same to allow for a durable playing experience. Whatever your needs for A5 Playing Cards, Ivory Graphics have the solution right here for you.
Custom A5 Playing Cards
Like all decks of playings cards that Ivory Graphics supply, the A5 Playing Card Decks come with 52 cards + 2 Joker cards. You also have the option to personalise the front and the backs of the cards with images of your own choice. Customising your A5 Playing Cards is easy, all you need is the images you wish to use and away we go.
By heading over to our 'Request a Quote' page, you will see a few easy steps that need following before you can get your hands on your very own deck of custom A5 Playing Cards.
Ivory Graphics give you the opportunity to choose how many cards you have in your deck, A standard pack of A5 playing cards has 54 cards. While if you choose to personalise both sides of the cards you can have a many cards in a pack as required. A pack can be as small as 6 cards or as large as 200 cards in a pack.
Select the material required we recommend 350gsm Zanta Games board for larger cards. Whilst non opaque it is stiffer than any other material. These decks are packed in Plastic cases as standard.
If you have any questions regarding our Large A5 Playing Cards or the customisation process, please don't hesitate to get in touch so we can help you.