Custom Tarot Cards
Specifics
Design
Description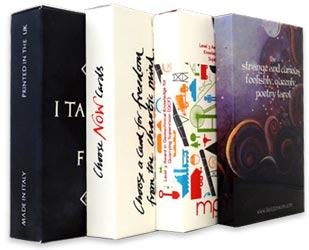 Custom Tarot Cards
You can create cards with your own concept
using any amount of cards per deck
Tarot Card Description
Tarot Cards have become extremely popular in the last decade or so as more and more people attempt to look into their future and foresee possible events and happenings. Whether you want an insight into your own future or someone elses future, Tarot Cards can be fun!
Maybe you want a change from your usual sized deck of playing cards or you are looking to personalise a deck of Tarot Cards to give as a gift to someone you know you. Either way, we cater for your needs at Ivory Graphics. Design, Create and Love your new personalised deck of Tarot Cards. We offer innovative solutions when it comes to playing cards and with our forward thinking approach we work to ensure every customer is satisfied. Call us today and ask us about customised Tarot Cards!
Tarot Card Design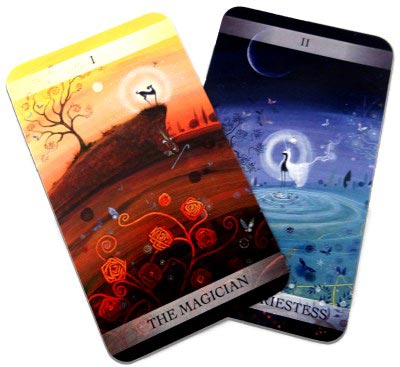 Like every custom playing card we supply, our Tarot Cards are manufactured with a playing card coating to ensure high durability and the ultimate playing experience. With a Tarot sized Tuck box and the option to personalise, these Tarot Cards make the perfect gift to anyone who has an interest in superstition and psychic readings.
70mm wide and 120mm high, these Tarot Cards incorporate 8mm radius corners. If you have a new concept you'd like to share with us, please get in touch. You don't always have to use Tarot Cards as playing cards though. You can use them as part of an educational activity or as part or a training/coaching event. Endless opportunities!
If you require a different quantity to the conventional 30, 54 or 78, you need only ask! We give you the option to customise any deck you buy from us and nothing changes with our Tarot Card selection. Choose from matt or gloss lamination as standard and ask us about the option of shrink wrap Tarot Cards and Tarot Card boxes. FREE plain white tuck box included with every Tarot Card purchase. Contact us to speak about custom box designs.
Playing cards materials on offer for custom Tarot cards are 280um Zanta Gameboard, 395um zanta and our new 270um Aramac 100% Plastic playing card material. Minimum order of custom Tarot playing cards from a single pack and 50 on Tarot size boxes.