Flash Card Maker Help
Here at Ivory graphics we offer near unlimited customizHere at Ivory graphics we offer near unlimited customization on a variety of sizes. However, the task of design them can be daunting, so in response to this we have released a tool to help in designing the product you want. Whilst the flash card maker is our first tool to be released, we will be incorporating other sized cards so you can make the product you want.
If you can't make the cards you want with our online tools feel free to call us to talk about your design aspirations.
In this guide you will find out how best to use our tools and templates and a section on how we do what we do.
On the landing page you will find a brief description about what our flash creator offers, this help guide, access to your basket, our prices and of course access to the actual flash card creator.
Getting Started
The best thing to do before starting to design your cards is to make an account with us. Also, because our system updates in real-time you don't have to worry about losing your progress if anything happens.
After making an account begin by clicking on the start creating button and it will take you to the Flash Card Creators main page.
Creating Your Cards
On this page you can find broader editing tools like adding cards etc.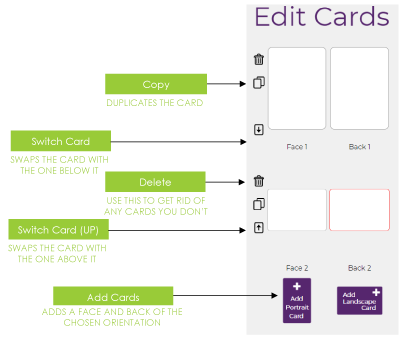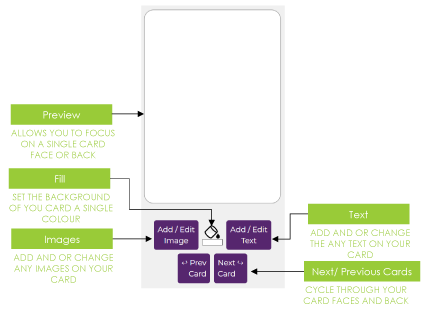 Crop
Recrop or replace the image
Enlarge
Click to enlarge the photo
Shrink
Click to shrink the photo
Align to top
Moves the image to the top of the card
Align to center
Moves the image to the center of the card
Align to bottom
Align the image to the bottom of the card
Align to left
Align the image to the left of the card
Align to middle
Align the image to the middle of the card
Align to right
Align the image to the right of the card
Move left
Moves the image to the left
Move right
Moves the image to the right
Move up
Moves the image up
Move down
Moves the image down
Text color
Change the color of the text
Bold
Make the text bold
Italic
Slant the text
Align text left
Aligns multiple lines of text to the left edge to each other
Align text center
Aligns multiple lines of text centrally to each other
Align text right
Aligns multiple lines of text to the right edge to each other
Rotate clockwise
Rotates the text 90 degrees clockwise
Rotate Counter Clockwise
Rotates the text 90 degrees counter clockwise