Laser Cutting Service
Paper & Card
Glass
Wood
Platic
Aluminium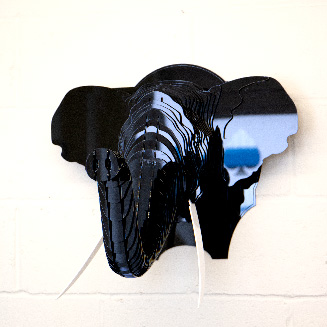 We have invested in a top of the range laser cutting and etching machine.
This is quite a different venture for us but we found laser cutting so irresistible!

Thinking outside of the box, it makes you work in a completely different way, meaning we can do abstract applications to our existing products, for instance; laser cutting on tuck boxes or playing cards.
We've also been experimenting with putting slots in cards, creating a whole new game! Instead of playing with cards you can build your own structure.
Just imagine:
You work in marketing for a retail company and you want to display your sale items in your shop windows in a unique way; creating something eye-catching that drives customers into your store! As we do different sizes of playing cards we could laser SRA3 playing cards with slots.
You are a teacher or carer, helping to sculpt the minds of young people and you want to find a new way to engage the kids – to learn new ways of thinking, by producing a new game, encouraging problem-solving skills and creative, exploratory thought.
Or how about a game company planning out scenes for a video game.
…An art exhibition displayed as structure of prints of artists' works?
It's all up to you!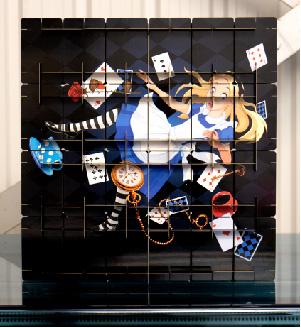 Paper and Card Cutting
Laser cutting can be used on business cards, invitations, displays, books and nearly anything else you can think of! Owing to there being no tooling involved, you can get a sample test of any design with our laser-cutting service.
Glass Engraving
Glass engraving creates such a beautiful frosted effect. Our CO2 laser can etch flat glass up to 1 metre square or even mirrors can be individually etched.
Drinking glasses of all sizes can be etched. Ideal for corporate giveaways or parties with a bit of extra personalised style. This could also be used for branding for a brewery or micro-brewery pub.
Wood Cutting and Engraving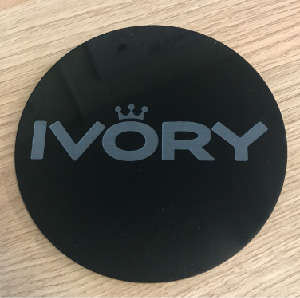 Engraving wood has a wonderful effect and that's why its one of the most popular application on a laser machine. You can make some pretty unique awards, signs, toys, furniture almost anything made of wood. There's currently a trend of making jewellery from laser cutting, using shapes and patterns in nature, such as animals and plants.
Plastic Cutting and Engraving
With a stunning array of wonderful bright colours, etching really stands out as an individual design choice, there's a huge range of plastic sheets that can be cut and etched using a laser machine. The cutting leaves a fantastic smooth edge. Putting these together you can make some amazing products.
Using our laser cutting service you have such a variety of materials that you could combine to make something extra special. For example, you can place bits of acrylic into wood to create something not entirely unlike this beer mat we made for fictional brewery 'Zombie Hop'!
Aluminium Engraving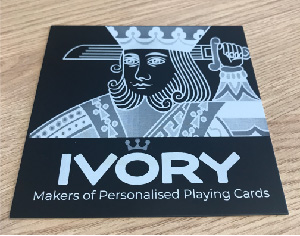 iPad engraving is a great way to personalise and create something unique. iPad backs are made from anodized aluminum that engraves to make a nice light silvery tone.  So if your company has loads of iPads why not mark them with your corporate branding. Extra advertising wherever they go.
To find out more about our laser cutting services please get in touch.
To get a quotation just provide us with a vector drawing plus a list of materials you want to use and the quantities required. Just email to laser@ivory.co.uk