Laminated Custom Cards
Environmental
Description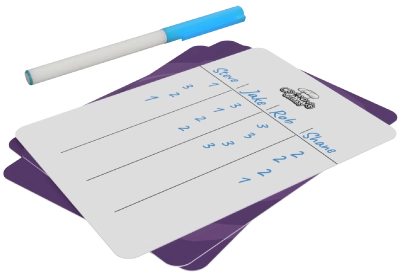 What is a laminated card?
Lamination means to stick pieces of material together. At Ivory Graphics we can laminate cards for extra dynamic uses that normal playing cards can't achieve.
There are 3 types of laminate, gloss, matt and soft touch.
Gloss laminate is very shiny and idea for writing on with a dry wipe marker. They can be written on and wiped off many times. This is especially useful in games with the need to keep notes or score. The game can then be replayed without replacing any cards. Mostly used with education flash cards where learning is the goal.
In contrast matt laminate can't be written on and wiped off. If you prefer a matt finish and would like to protect your cards from getting damp for a drinking game for instance. Then laminated cards are ideal. All our laminates are water resistant.
Finally, soft touch laminate is very matt with a soft velvet feel. This laminate has no glare at all so it is very useful for sensory cards.
All our laminated cards are covered both sides as standard. Covering one side is not possible.
Laminated cards can't be shuffled or fanned in the same way our standard custom cards can be although the other uses allow for completely different games.
Environmental Impact
Standard playing cards have a coating that does not affect the recycling of the cards in a normal process with other papers. Laminated cards can't be recycled in the same process, the laminate would have to be removed to recycle the card. With this in mind the extra dynamic uses allow the cards to be used for longer in very different ways that could otherwise could not be achieved.
All our card sizes can be laminated with any number of cards in a pack. Tuck boxes or rigid boxes would be thicker than normal. So be sure to select the right options when getting your templates.
To find out more request a quote with your desired size and request the laminate you require. This option is only available on personalised both sides. If you would like to see a sample just click the tick box.