How We Work
Welcome to Ivory Graphics Ltd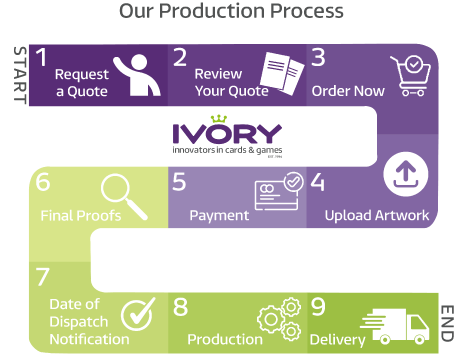 We specialise in manufacturing custom cards of all types and sizes. We create packs in any amount of cards and on various different materials.
Why not try us today? Speak to one of our sales team, who will be happy to offer advice on making your deck. They can give a fast, competitive quotation and provide you with samples of a previously printed pack in the size you require. It's always good to see a deck in the flesh so you can see the quality we produce.
Alternatively you can request a quote and samples online. There is a quote request link at the bottom of every page.
We will be with you all of the way, from the initial brief to the finished decks. Our way of working will keep you updated on the progress of your order throughout. Although the company has of course grown in size. We pay close attention to all jobs going through the production process to ensure high standards are met.
What do we do with our overs?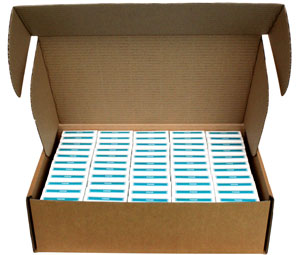 Overs on a normal printed product like a leaflet or a business card has an insignificant cost and these would just be added to the order and sent out. With our products the cost per item is not insignificant so they can't just be added to the order. Some manufactures will charge the full price of the packs as part of their process and can leave the customer with a hefty bill if there are a lot of overs. Plus, if the order is short, you receive a credit instead of what you ordered. We have always made sure that every order is sent out with the total ordered because otherwise the client is not getting what they ordered and clearly not getting the value for money they expected. We have internal processes that ensure quality and the total amount of packs are as ordered.
We have looked at our sustainability goals for 2022 and to minimise our waste we now offer overs to customers at 50% of the pack price of the order. (Overs will not exceed 10% of any order). We also offer to confidentially recycle the packs if the overs are not required so the customer has a choice. The customer can also allow us to use their overs as samples to prospective customers. This gives the customer 3 choices and enables Ivory to further develop our systems to achieve more sustainability in our world.
Our Overs Process

When you place your order you will be asked if you want the option of overs or if you want them to be recycled.
Overs included: Once the order is produced the overs will be added to your order and sent out as one delivery. Overs will not exceed 10% of any order. An invoice will be issued for the overs at half the packs price.
No Overs: Once the order is produced and packed any overs will be dismantled for confidential recycling. No extra hidden costs, you will receive the exact amount you ordered.
Overs as samples: Ivory will add to our stock of samples, thank you.