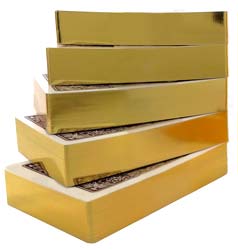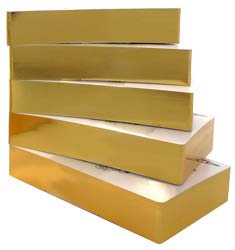 Gilt Edged Playing Cards
The Highest Level of Luxury
Highest Level of Luxury playing cards on the Market today
Give your custom playing cards an extra edge with Gilt Edge Playing Cards from Ivory Graphics, available in a range of metallic colours and solid colours.
When you are looking for playing cards, you will no doubt be looking for a deck which will stand the test of time, looks good, and feels good in your hand too. Fortunately for you, Ivory Graphics have conjured up the latest advancement in playing card technology, as we bring you Gilt Edge Cards.
Like all the other decks of cards we provide here at Ivory Graphics, Gilt Edge Playing Cards can be customised to your requirements, with either one side personalisation or double side personalisation.
An added bonus to Gilt edge Cards is that they can be used on any size we produce, so regardless of whether you want Gilt Edge Poker Cards, Gilt Edge Display Cards. Or Gilt Edge Bridge Cards, the team here at Ivory Graphics can deliver the goods.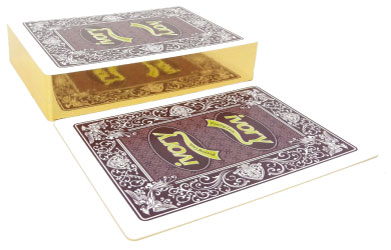 Luxurious Playing Cards from Ivory Graphics
Ivory Graphics always seek to deliver the best results possible and bring you the best products available on the market. With the lowest minimum order. We have seemingly surpassed ourselves this time with the latest addition with a minimum order of 25 packs – which comes in the form of Gilt Edge Playing Cards.
Not only do Gilt Edge Playing Cards look pretty, but they feel amazing in your hand too, with the incredible 310gsm Heretic playing card board which the thickest material on the market that allows for easy playing and durability. With years of experience in the playing card industry, we understand more than anyone how important it is to be equipped with a deck that can perform at a high level. Because of this, we have brought you the fantastic Gilt Edge Playing Card range, available to customise and buy online today.
Please Note: The minimum order on Gilt Edge Playing cards is 25 packs.
If you would like any more information relating to Gilt Edge Cards or you would prefer to make an order over the phone, please be sure to give us a call so we can discuss your options with you. Thanks, and we hope to be hearing from you in the near future.