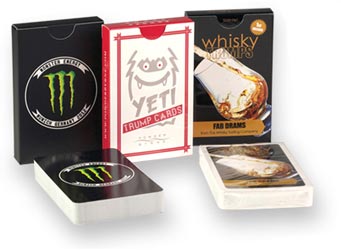 Custom Trump Cards
Make your own unique Trumps game,
normally made with 36 cards in a pack
Jump To Section
Personalised Trump Game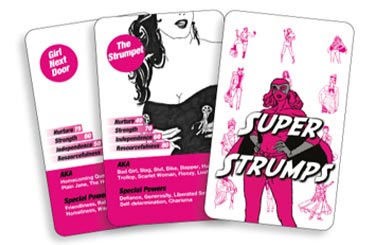 We all spent hours as kids playing with trump cards and we all know how enjoyable they are! Some of you reading this might be thinking "Hey! Are still play them now!", which is excellent!
Ivory Graphics give you the opportunity to create your own custom deck of Trump Cards and use whatever numbers, images and characteristics that you like! With custom card games comes an added level of amusement as you can use things that are personal to you, private jokes and novelty images to make the game even more fun! Call us today for a FREE quote on Custom Trump Cards and one of our friendly team will be able to help you: 01354 656 430
Custom Trump Cards
Considered one of the greatest card games of all time, Trump Cards offer the players hours of fun! Ivory Graphics provide you with the opportunity to produce Custom Trump Cards using whatever images, text, logos and characteristics you like!
A standard deck hol ds 36 cards, each of which incorporates a different picture, title and categories chosen by you. Decide on the 5 categories you want to use for your Custom Trump Cards and keep them the same throughout your deck of Trump Cards! This can be more or less if you think it would work better that way for you! Pick your answers, which will vary on every card, and your decks will be complete, ready for games between 2 or more players. Happy Trumping!
How Trump Cards Work
The best things about custom card games, especially trumps, is that you can choose whatever variables you like for an infinite amount of themes. Cars, People, Sports Teams, Wedding, Hen and Stag Nights, Cars, Boats, Houses, Countries, and Foods are all things that can be considered when designing your Custom Trump Cards.
Another option is to use some of your products and services, spread across the 36 cards and more, as part of a promotional event or FREE giveaway. Good idea, don't you think? Gifts like cards, and custom ones especially, can be a powerful promotional and marketing tool for you and your business! Get in touch today and speak to us about different marketing options using custom made cards. We are here to help you!
We try and keep the process as simple as possible. All you need to do is supply us with your pictures and fill in our hassle-free work sheet, then we will do the rest! Unlike other websites who offer similar services to ourselves, we work to ensure an easy process for you. We will create all artwork for you and send to you for approval before we print your Custom Trump Cards. Rather than spend hours trying to upload images and place your order online, give us a call and we can manage the process for you!
Please Note: Custom Trump Cards use standard Trump Card size of 62mm by 100mm. If you require larger or small cards to suit your designs we can do this for you. If you require more or less than 36 cards, we can do this too! Custom Playing Cards at their finest!