Poker Custom Faces
Corbis Poker Cards
A superb pack with very unique handed faces that really demonstrate the quality of photography that Corbis are capable of achieving.
Custom faces enable you to not just put your branding on a pack of playing cards, you can show off all your products in a very in-depth and creative way. When used as a corporate gift you presenting a very unique pack of cards instead of other more conventional promotional material.
Handed: A pack of cards that contains graphics viewable both upside down and upright. The pack in this example uses a single cut design.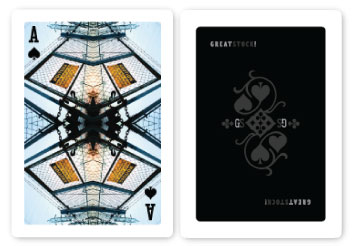 Please see all of Corbis Faces below :