How to setup artwork correctly
Step One:
Download the correct template from our website:
https://www.ivory.co.uk/templates
Step Two:
A.
Identify which type of design you will be using:
1. Single Cut Design:
Each card is set next to each other on a sheet without a gully. Design will require a common border on every edge.
2. Full Bleed Design:
Each Card is set next to each other with a gully. No border is required.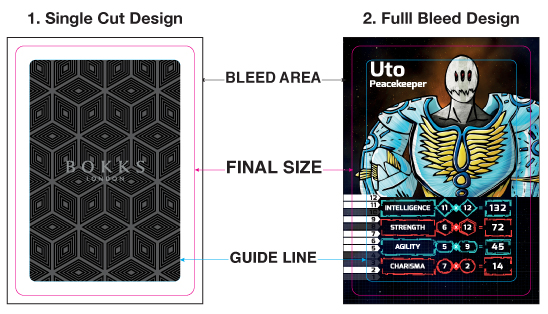 Correctly setup your artwork taking into account the following:
B. All content such as text and images must be confined within the blue line.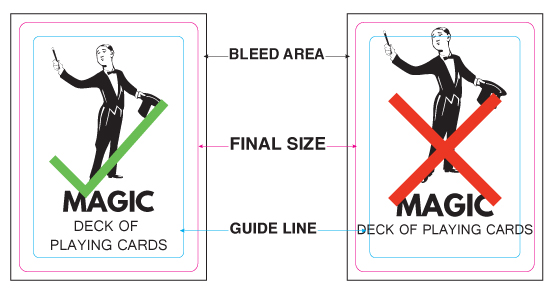 C.
All backgrounds, borders and anything that exceeds the blue line must continue to the edge of the bleed area.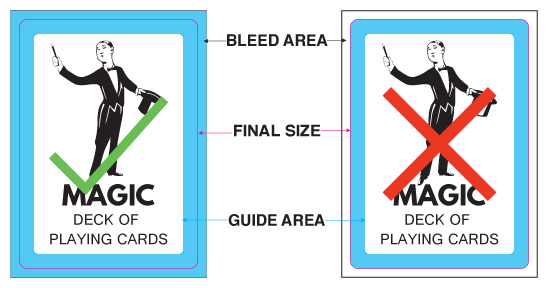 D.
All images and effects and are a minimum of 300 ppi.
E.
All content is created in the CMYK colour space (colour mode).
F.
If the artwork is for playing cards, check to ensure you have created a complete set and supplied the artwork in the desired order.
G.
Ensure all content is centrally alligned.
Please ensure all artwork is supplied with all templates and explanation layers removed/turned off.
Step Three:
Once you are ready to submit your artwork submit it via the website in .PDF format. Here is the preferred file structure:
Tuckbox file.pdf
Card Faces.pdf
Card Back.pdf
Please ensure that all cards are in the correct order in the PDF file. Once you have uploaded your files the next step is to await final print proofs.
Why is all this important?
We put a huge emphasis on mantaining a high level of quality and in light of this we have multiple guidelines and checks in place in order to meet the standard you should expect from us. Despite this both printing and cutting are mechanical processes. With this comes small amounts of variation to our final product. The amount of bleed and border we give ensures your artwork is not affected by this slight movement. The only time this becomes an issue is when the templates supplied aren't correctly followed.
Receiving Your Final Print Proofs
Step One:
Download your digital proof from the link provided above. Please check your proof thoroughly and make sure everything is how you want it before approving for print. If you notice any alterations you require. Please reply by email or to discuss call 01354 656497 (Our Studio is here to help you get the best design possible).
Below is an example of what your print proofs wil look like:
A. Is a full bleed design.
B. Is a bordered design. The magenta keyline on the border shows the final size of the product.
C. Is our tuck box template.
D. Illustrates how the artwork fits on the box template.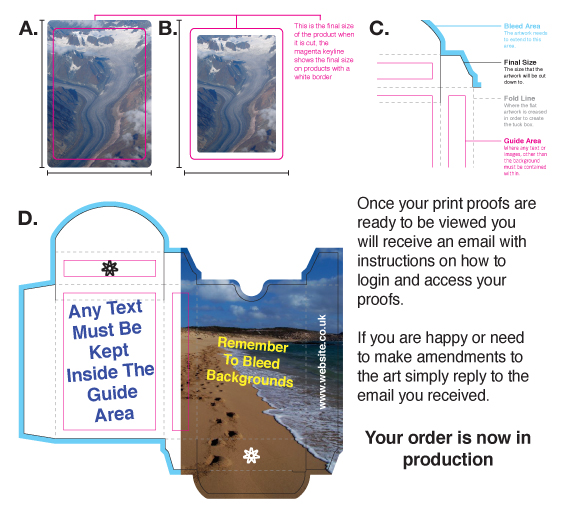 © Ivory Graphics 2016