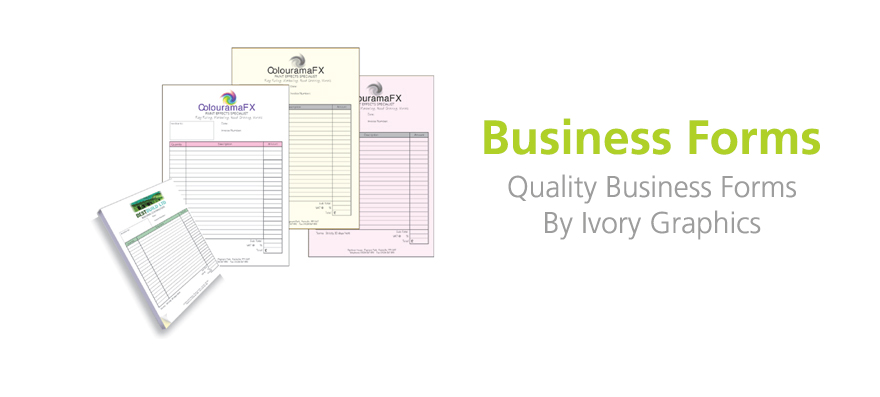 Business Forms Description
Our business form printing sets are one of our particular specialities. NCR (no carbon required) are the quick and simple solution when several copies of a document are required. The range of applications is endless, for all business forms from Delivery Notes to Restaurant Order Pads or Sales Invoices. Great if your on the move and need to keep a record.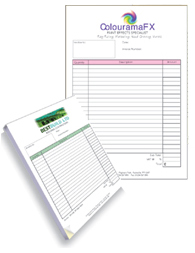 Business form printing sets consists of at least two sheets. They rely on pressure to transfer an image from the top to subsequent sheets. They can be used with a ballpoint pen or using an impact printer such as a Dot Matrix or Daisy Wheel. The amount of pressure required to form an adequate copy on the bottom sheet increases with the number of sheets in the business form set. For this reason business sets should not normally be more than four sheets. Please note: Business forms will not currently work with Ink Jet or Laser Printers. Business form printing sheets are available in the following colours:- Blue, Pink, Green, Yellow and White.
A 155gm white card bottom sheet can be specified if required. This is particularly useful in applications where loose business forms are needed but flat surfaces for writing are difficult to find! Business forms are supplied ready to use as loose individual sets as standard. It is possible to specify numerous finishing options. These include: Perforating, Padding and Hole Drilling. We can also Crash Number sets. The number is applied by impact on the top sheet and transfers to the other sheets using the self impression property of the set. Please provide your required start number and indicate the position of the number on the sheet. If you require a bespoke business form size NCR simply detail your requirements at the time of order. Please price as the next size up. We make no additional charge for cutting printed business forms to Non Standard Sizes.