Presentation Folder Description
Presentation Folders are made from 400gm silk and 280gm gloss art card printed on one or both sides in either Spot Colour or Full Colour. The standard presentation folders can be specified for either A4 or A5 size inserts. We also have a 'Design Your Own Folder' section where any other folder can be priced. Please Click Here for a bespoke presentation folder.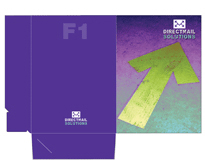 Lamination
Presentation folders can be laminated with Gloss or Matt laminate on one or both sides. We are also able to Spot UV varnish (at an extra cost), please ask for details.
Assembly
Presentation folders are supplied flat with interlocking pockets for easy assembly at time of use. Alternatively have your presentation folders supplied fully assembled if preferred. Please Note: Assembled folders are very bulky. We may have to revise our carriage cost to reflect volume rather than weight.
Gussets
All presentation folder designs can be specified as Gusseted or Ungusseted. Ungusseted presentation folders are perfect for holding the equivalent of around 10 80gm sheets of paper. If substantially more inserts are proposed then gusseted presentation folders are recommended.
Business Card Slots
All presentation folders can be supplied with slots to hold a business card on either the vertical or horizontal flaps at an extra charge (A4 presentation folders only). If this option is required, please specify card position at the time of ordering. *(Bottom flap or side flap).